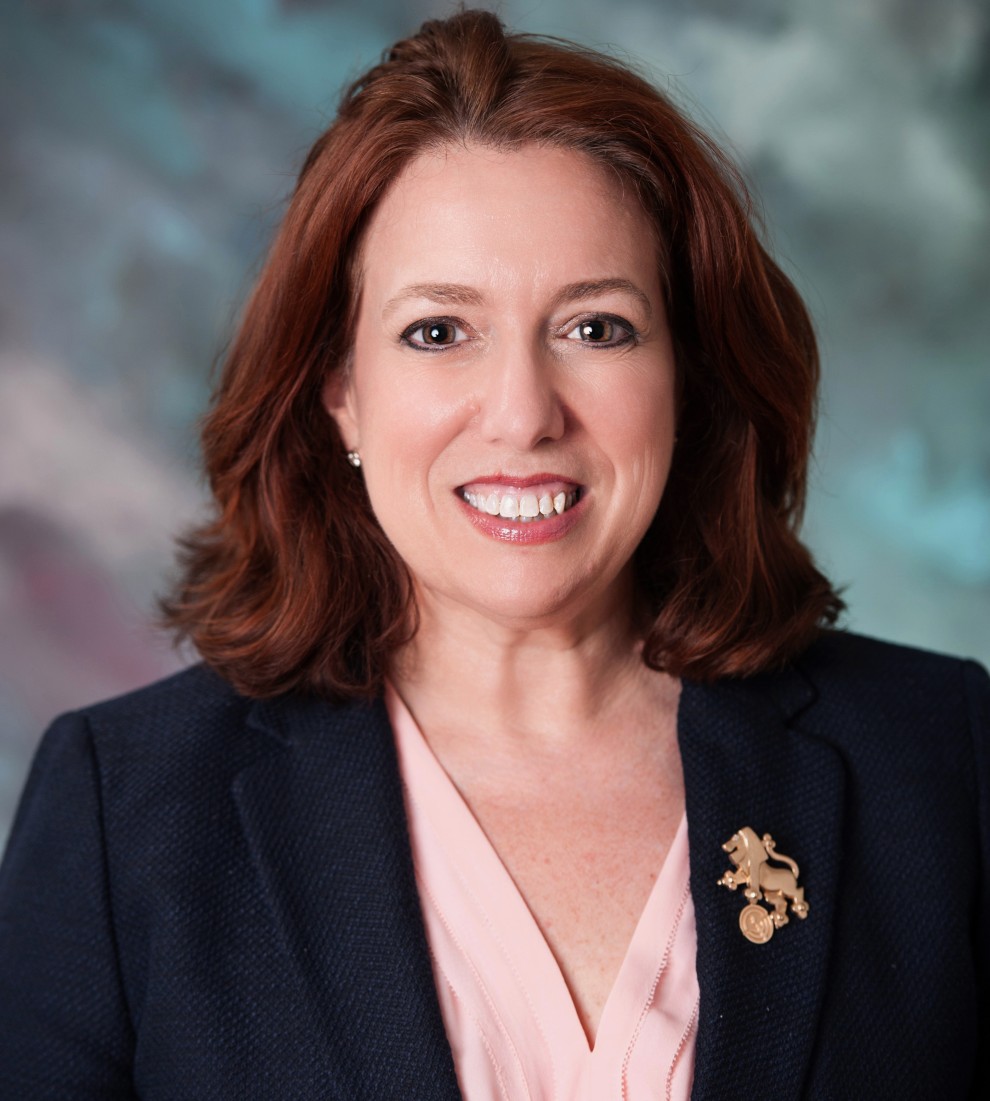 When I was in middle school, longer ago than I'd like to admit, my social studies class was given a seemingly simple project. Pick one branch of your family tree, draw it and write about your family. For most of my friends, their families, like mine, had been immigrants. The main difference was their families had already been in the United States for many generations. And, even if they had not, their family history had not been interrupted by anti-Semitism, pogroms and forced migrations.
Just like I do today with challenging tasks, I dove right into my project and gave it my full attention. I decided to study my mom's side of the family. In order to do that, my mom took me to Boston for a weekend to interview my grandparents, both immigrants from Eastern Europe, to learn their stories. I sat with them for hours and recorded their history on cassette tapes. These tapes have become a family treasure.
Many stories were harrowing and poignant, but one in particular always stuck with me. My grandma Polly was from Poland, although she liked to say Austria/Hungary, because the borders and governments moved and changed.  She had wanted to go to Israel with her youth movement, but she couldn't. She was the oldest of three children and her father had left Europe on his own in the early 1900s, for the United States. His plan was to work and save money to bring over the rest of his family because they could not afford to come together. Her father ended up in Boston, where he worked menial jobs to save money to bring his family to America. They, like all other immigrants, came to the United States for a better life for their immediate families and for generations to come.
While my great grandfather was in the USA, my great grandmother died and left my young grandma to raise her younger brother and sister and eventually come to the United States. At the age of 16 my grandmother finally heard from her father that he was sending tickets for them to come to America, but she would need to get to England to the boat that would bring them to the States. As I distinctly remember my grandma saying, with her heavy accent, "we didn't have a car, or plane or train to take us to the boat, we had to walk."  My grandma explained in great detail how she took her siblings, who were 14 and 12, and they left Eastern Europe on foot to get to England. 
They walked from village to village, slept in churches, always trying to find a safe haven along the way. It was very dangerous to walk from country to country and cross borders illegally. It took many, many months for them to reach their destination, but miraculously they all made it onto the ship that sailed to America. When they arrived in New York's Ellis Island, my great grandfather was there to welcome them to their new home. And while the arrival process was thorough and sometimes demeaning, it was a happy place of reunification for my family. My great grandfather was united with his children at the border. Parent and child were brought together to begin a new life in this country.
My family was extremely lucky on several counts. They were able to leave Europe prior to World War II and they were given the opportunity to immigrate to the United States before the borders and quotas became stricter and tighter. The story could have had many different unhappier endings.
My family has always been tremendously grateful for the safety and security of the United States, the country that gave us the opportunity to escape anti-Semitic Eastern Europe in order to live productive lives. To this day, just like my family did, people look to the United States as THE country that offers freedom from persecution and an opportunity to create better lives for their families now and in the future. In fact, these are the foundational roots of our country. The United States was founded on the principles of freedom from persecution and intolerance. In middle school my family was a new immigrant story, but everyone had an immigrant story. In fact, everyone in the United States has an immigrant story, other than our only indigenous population, Native Americans.
It is simply horrifying to see what is happening today at our southern US border. The news clips this week and last, as the story broke about children and parents being torn apart at the border, seemed unreal, impossible, and unfathomable. Could it possibly be our own government that ripped families apart and put children in cold, sterile detention centers? And, in the dark of night on Wednesday, children were flown from Texas to places all over the United States. They were taken without records and documentation about their parents or other family members.  Children, as young as 9 months old, were brought to shelters and put in foster care, with little if any information about who their parents are or where they are now. We are learning that many adults have been deported back to their country of origin without their children. Click here for an article about the challenges of reunification. How can this possibly be our country treating children so cruelly and immorally? 
This is not a partisan issue, this is a humanitarian one. This is a moral emergency and our Jewish traditions teach us that we are to be upstanders for the disenfranchised and the strangers in our land.  And, our recent history shows us the tragedy and trauma of families being torn apart. I recently was stopped by one of our local Holocaust survivors who was in tears telling me how he feels as if he is reliving his own childhood trauma.
I believe that we as Jews cannot stand by quietly when anyone, but children in particular, are treated inhumanely.  Yes, a crime was committed by adults trying to cross a border illegally. The crime was motivated by the same motivations many of our own relatives had in their desire to make a better life for themselves and their children. 
According to FactCheck.org: "Between April 19 and the end of May, 1,995 minors were separated from adults at the border, the Department of Homeland Security confirmed to FactCheck.org on June 18. When asked for updated numbers a few days later, DHS told us the 'zero-tolerance' policy went into effect on May 5, and between May 5 and June 9, there had been 2,342 children separated from their parents. And, as of June 15, there were 11,517 minors in the 'Unaccompanied Children's Program,' according to the Department of Health and Human Services' Administration for Children and Families."
Like many of us, I have been feeling helpless this week. I know this situation is wrong, gut wrenchingly and simply wrong. But, what can we do? And, more importantly, what do our Jewish values instruct us to do? What does our own history teach us when those who have power do not stand up for the disempowered? 
I believe that this is one of those times as a Jewish community that we must put politics aside and stand up and say something. We must make it clear to our government that we know and understand the trauma of cruel separation and we will not stand by quietly. We must communicate with our local and national leaders that our values do not allow us to be silent on this issue. And, we must partner with people of all faiths and backgrounds to work together to change this horrific situation. 
Here are 4 things I believe you can do to make a difference:
1)      Call your representatives and encourage others to do the same.  As much as we may wish we could physically reunite families, we don't have the power to do that or to stop it from happening in the future. The U.S. government does have that power though, and you can call your representatives and let them know how you feel. You can reach your member of Congress by calling the Capitol switchboard at 202-224-3121, then press 2 and you will be instructed to enter your zip code to be connected to your Representatives' office. 
2)      Volunteer.  If you have experience in immigration law or can translate, organizations like the Texas Civil Rights Project can put you to work in the fight to reunite parents and children. They are reportedly in need of translators who speak "Spanish, Mam, Q'eqchi' or K'iche'" and people with have paralegal or legal assistant experience. Locally, a group of Jewish lawyers and translators has organized to volunteer in Texas through the CARA Family Detention Pro Bono Project at the end of July. 
3)      Keep talking about it!  In other words, don't let this story fade into the background. Make sure this stays in the headlines until we are satisfied with new outcomes. Join a rally, start a rally, write a letter, speak up. An organization called Families Belong Together is organizing rallies around the country on June 30.  Join if it is within your Shabbat practice. Make sure that your voice is heard in some way.  
4)      Teach your children and grandchildren.  Make sure that you share your family story so that we all know and understand our immigrant past and our roots. Also, with new reports pouring out of every smartphone, television and radio in our country, reassure your children and grandchildren that they are safe while helping them understand that governments sometimes take actions with which we disagree.
This is the time to use the power that this country offered our immigrant families, just like my grandma, to help the powerless. In the words of Rabbi Hillel, "If not now, when?"
For more information about this situation, click here.
Shabbat Shalom, Meredith Dragon, CEO